How to easily transfer emails to a different service/host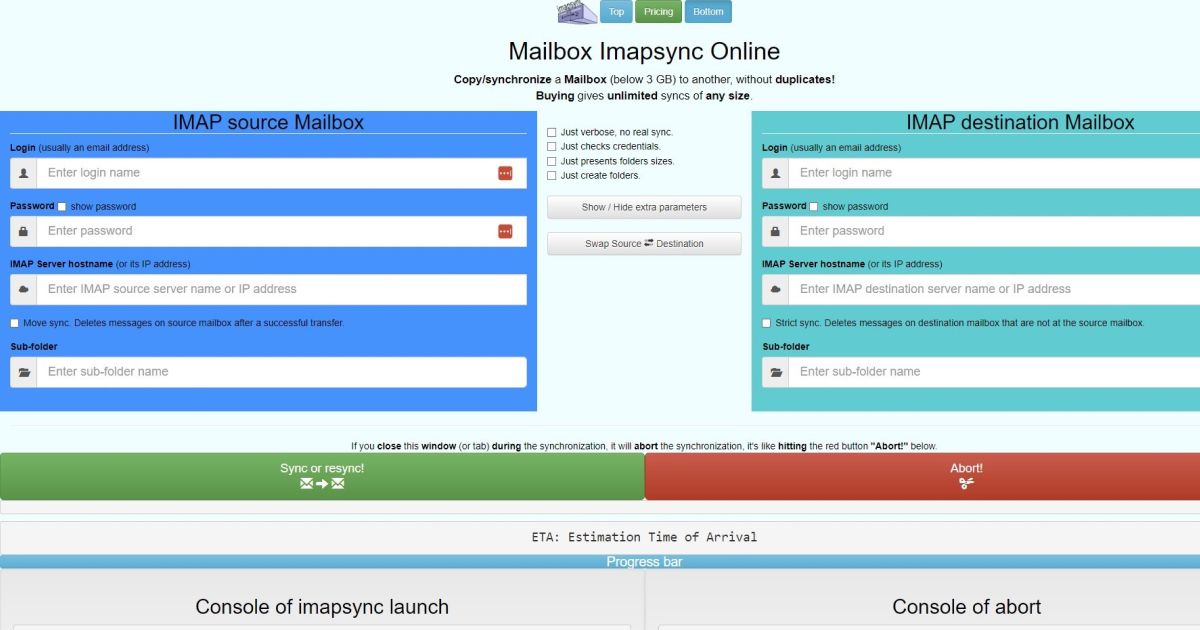 Are you changing your emails to a different service/provider (server, host or domain) but want to keep all data as is? You don't have to do it manually!
The problems of exporting and importing emails manually
Forget about exporting and importing trough webmail, many times those have limits.
You might end exporting without being able to import after (and a backup is no good if you can't later import it, right?). Dividing an export into many different files, to avoid limits, it's also a lot of work and can lead to mistakes.
You might even remember to export the "Inbox folder", but what about others, such as "Sent" or custom ones.
That's why on this post, I want to share with you a very handy on-line tool, properly called Mailbox Imapsync Online.
How to use Mailbox Imapsync Online to transfer emails automatically
Using Mailbox Imapsync Online couldn't be simpler:
First, be sure that you have the credentials of the two email addresses.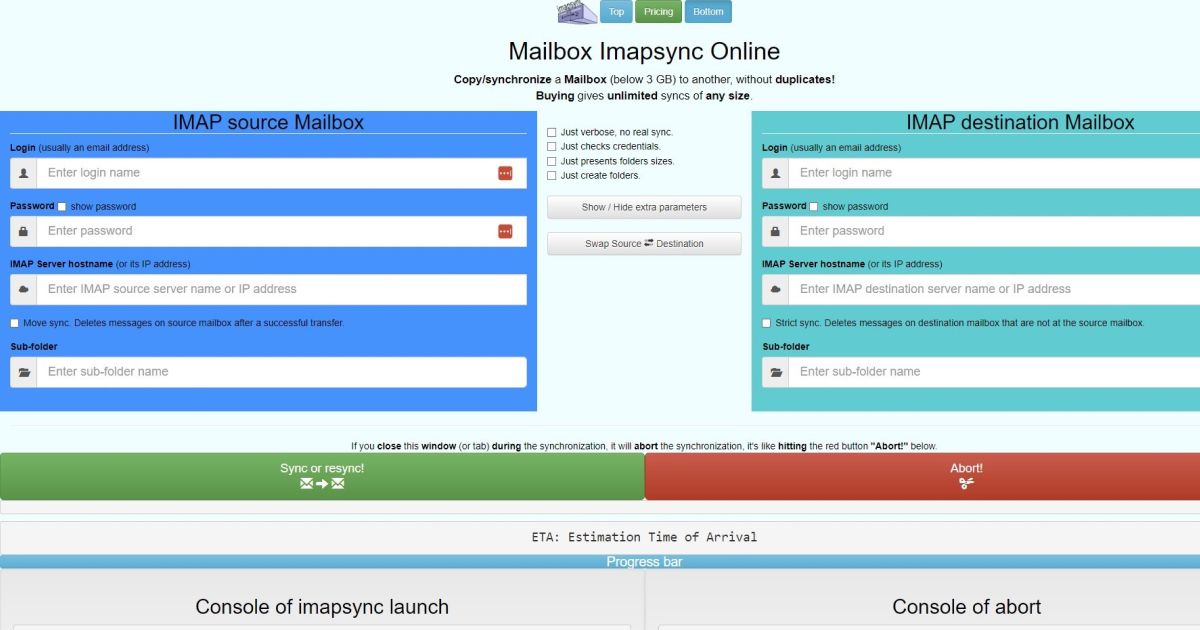 Source email
On the left side, you will find "IMAP source Mailbox". You will put there the credentials of the source email address, the one that you want to transfer emails from. You can get the correct "IMAP server hostname" on your hosting service or by checking to where the MX records were pointing at (Can also be an IP, in fact might be better if you already made changes to you Domain Name Server).
Destination email
On the right side, you will put the credentials of the new email address. Be sure to create the email first on the new provider. You must get the correct "IMAP server hostname" on your new hosting service (or new server) or by checking to where the MX records are/should be pointing at (Can also be an IP).
Extra parameters
If you want, you can also automatically delete the source emails that get transferred – Click on "Show/hide extra parameters" and you'll see the new option "Move sync" appearing on the left side. This can be useful to avoid the 3GB limit that the tool currently has, on the free version.
Click sync to automatically transfer emails
Then you simply click the green button "Sync or resync"! Keep the window opened and check the console log to be sure that everything is going smoothly. If something breaks, do not worry, simply click again the green button and the process will continue as "Resync" suggests.
Besides automatically transfer emails, there's more to Mailbox Imapsync Online
Sync between different email addresses
If you look closer to all options, you are not limited to transfer emails between the same email addresses.
So let's say there's a new employee in yourcompany called Lucy working in content marketing, her email is [email protected], the old content marketer was Lauren and her email was [email protected].
With Mailbox Imapsync Online, you can transfer all of those work related emails, about content marketing, to the new employee.
Just create folders
If you don't want to transfer all the emails, but want to keep the same structure of another email address, you actually have a checkbox to "Just create folders" during the sync.
Did you know about this tool before? Was this helpful?
Let me know in the comments section below.
I remember searching for something free like this in the past and it wasn't easy. Until an old hosting provider mentioned it to me, during support. They were more life savers then I care to admit, I hope for you too.
Comments